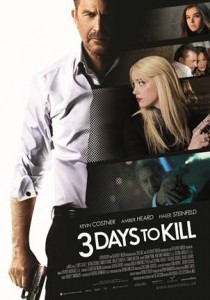 Ihr steht auf knallharte Action unter der Regie von McG? Oder ihr habt seit Ewigkeiten keinen guten Film mit Kevin Costner mehr gesehen? Vielleicht ist 3 DAYS TO KILL ja genau der Film, auf den ihr gewartet habt?!?
Mit freundlicher Unterstützung von Universum Film können wir euch folgende Preise anbieten:
3x Kugelschreiber "3 Days To Kill"
1x Poster
2x Kinoticket
Wer gewinnen will, muss einfach nur das Kontaktformular ausfüllen, und uns hier ein Like zu schenken und das Gewinnspiel zu teilen hat auch noch nie geschadet.
Der Rechtsweg ist wie immer ausgeschlossen, Teilnahme ab 16 Jahren. Wir wünschen allen Teilnehmern viel Glück, die Gewinner werden von uns benachrichtigt… Aufgrund des morgigen Kinostarts werden wir die Gewinner bereits am kommenden Wochenende ermitteln…
[contact-form-7 id="15706″ title="Gewinnspiel – 3 DAYS TO KILL"]